Labutils
Making lab work easier since 2011
News
[May, 15 2018]
We have updated our privacy information.
[Dec, 07 2017]
We have found (and fixed) a minor bug in the export module which in rare cases caused missing values in the export files. We uploaded the fixed 0.1.3-beta-2 version of RootDetection. Download now.
[Nov, 27 2017]
We have uploaded a beta version of RootDetection that works with recent versions of OS X. It includes many improvements, better memory handling, native Excel export (XLS). Download now.
[Jan, 28 2013]
We are working on the next release of RootDetection. Upcoming features: Angle and curvature detection, native Excel export (XLS), improved memory usage. Stay tuned!
[May, 23 2012]
The RootDetection R Package RRootDection is available for download. Features:
direct access to RootDetection results database
filter and plot results for single images or complete directories
[Apr, 27 2012]
RootDetection 0.1.2 is available. Improvements are:
allowing overriding measure line and start points in config file
improved label recognition
improved memory usage
space bar toggles 'grab' mode to navigate image (use the tab key to switch tools)
[Feb, 28 2012]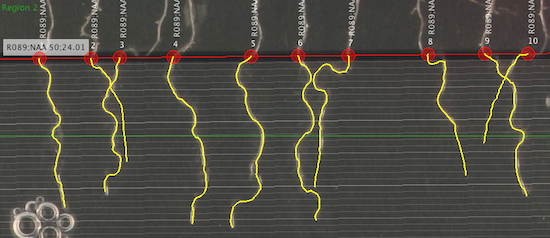 We are happy to present RootDetection 0.1.1, our automated tool for evaluating photographs of plant roots. It detects single strand roots, traces their paths and measures the resulting lengths - completely automatic.